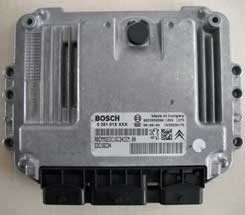 We were sent this ECU for a 2006 Ford Focus 1.6 TDCI from a garage in Leeds, West Yorkshire, regarding issues with intermittent starting and sometimes no connection with the ECU via diagnostic equipment. After completing a full ECU Test, we were able to advise them that the unit was faulty and could be repaired.
On inspecting the ECU, we discovered dry solder joints along the ECU connecter and signs of water ingress. Therefore we re-soldered the connecter, cleaned and re-worked the board before re-testing to confirm that the repairs were successful.
This 2006 Ford Focus is fitted with a Bosch EDC16C34 Engine ECU. This type of Engine ECU Module can be fully tested & repaired so if you have a Ford Focus with a suspected ECU fault, then do not hesitate to contact us today! You can email us, drop in or call 0208 853 5000.