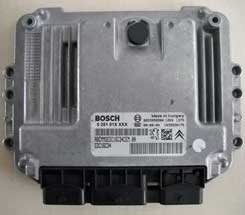 We received this ECU from a garage in Colwyn Bay, Conwy that reported the vehicle came in to them as a non-starter and they were unable to communicate with the ECU via the OBDII diagnostics port. The garage did check the wiring and possible fuse/relay issues and it all pointed back to it being a faulty ECU and so sent it in for testing.
We opened the ECU and found no visible signs of any damage to the PCB or components and although we were successful in powering the unit up on the bench, we were unable to communicate with the unit through the connector pins. We were however able to communicate with the unit going directly on the board and so we proceeded to take a backup read of all data from the ECU before carrying out any repairs.
The customer was informed of the damaged components and was happy for us to continue with the repairs. We remanufactured the unit, changing all faulty components as well as any other components which are also known to commonly fail. The ECU was then re-tested and passed on our testing bench. We were able to get full communication and clear down all the logged fault codes.
The ECU was returned to the customer with all data in-tact making it fully plug & play. This means the garage did not need to do any programming or calibrations when refitting the ECU.
This 2008 1.6HDi Peugeot Expert Van was fitted with a Bosch EDC16C34 Engine ECU and we're able to fully test & repair these ECM units. We use new genuine OEM components when rebuilding the ECU to ensure that each and every PCM unit meets & exceeds OE specifications. All of our ECU Repairs come with a 12 month warranty as standard.
If you have a Peugeot Expert Van and suspect the ECU to be faulty then get in touch today to find out about our ECU Testing and Repair services and how we can help you. You can email us, drop in or call 0208 853 5000.