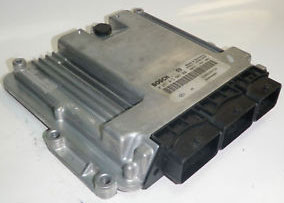 This ECU was sent in to us from a garage for testing because the customer reported the Engine light is always on. The garage plugged in their diagnostic equipment and came back with the following code:
PO235 – Turbo Boost Sensor Circuit "A" Short to Positive.
The garage had further investigated the fault and confirmed the sensor and wiring were okay so the fault must be triggered by an internal fault within the Engine ECU.
We tested the ECU and did see this fault coming up, so we cleared the faults and re-tested and again the fault did show up on our test rig which confirmed there is a fault within the ECU circuit. We were able to locate the exact fault within the ECU and repair it.
The repaired ECU was returned back to our customer fully functional and with a 12 month unlimited mileage warranty. We were able to retain all programming data so the unit did not require recoding and was fully plug & play.
This Nissan Primastar 2.0DCi with engine code M9R was fitted with a Bosch EDC16CP33 Engine ECU. We're able to fully Test & Repair this type of ECU unit so if you have a Nissan Primastar with an ECU fault, then get in touch today to find out how we can help you. You can email us, drop in or call 0208 853 5000.