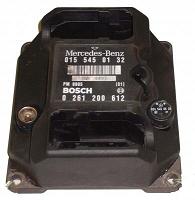 Customer sent the PMS unit in with the common fault (missfire on 2 cylinders). We were able to simulate the fault on our testing rig and successfully repaired it. Note that these ECU's are sealed and we have the required equipment and specialist experience to competently Test + Repair these units.
Note: You must replace your coil pack before re-fitting the repaired ECU to avoid blowing the ECU. Failure to do so may void any warranty.
This Mercedes C200 is fitted with a common failing Bosch Engine ECU. If you have a faulty ECU fitted to your vehicle then get in contact today. You can email us, drop in or call 0208 853 5000.