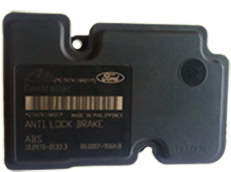 Every week we get calls from anxious customers looking for a more affordable option to replacing their ABS ECU modules and most commonly it's the Ford KA using the ATE ABS ECU Module. ATE is the name of the manufacturer which produce the ABS ECU's but there are other manufacturers out there too.
It is a very common fault for the ABS ECU on a FORD KA to stop working or even work intermittently. Some of the most common faults related to the ABS ECU faults are listed below:
ABS light appears on dash
Speedo stops working
Speed senser communication failure
If your vehicle suffers from an ABS failure of any of the above mentioned or any other symptoms.. we can help. We can repair or in some cases exchange your unit for a reconditioned unit, saving you a fortune. You won't need to have it programmed or anything, if we repair/exchange your unit, you will be able to plug it straight back in and have it working instantly!
So even if other garages and main dealers convince you that it's not repairable and suggest you buy a new unit, give it to the experts and let us save you money!