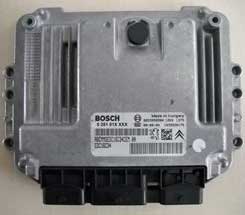 We were recently sent an ECU for a 2004 Ford Fiesta 1.6 TDCI from Maidenhead, Kent. They advised that it was running rough and was a non starter. After completing our extensive ECU Testing, we advised them that the unit was faulty and could be repaired.
On visual inspection, it was identified that several components had failed and also the unit had software corruption. Therefore, we replaced the components, reworked the PCB and then re-flashed with new software before re-testing to confirm that the repairs were successful.
This 2004 Ford Fiesta is fitted with a Bosch EDC16C34 Engine ECU. We are able to fully test & repair this type of Engine ECU Module so if you have a Ford Fiesta with a suspected ECU fault, then get in touch today. You can email us, drop in or call 0208 853 5000.