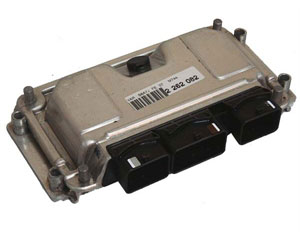 We got sent an ECM from a 2004 Citroen Xsara Picasso 1.6 from a garage in Cardiff after the vehicle cut out and failed to start. The garage diagnosed an ECU fault and suspects possible water damage.
When opening the ECU we did see signs of water ingress on the ECU and proceeded with our initial ECU Testing. The ECU did fail the test immediately with a "no communication" fault and we found several damaged components. We advised our customer of the faults and proceeded with the repairs.
We replaced the Eeprom which contains the immobiliser information and half a dozen other components which were also faulty. After repairs we retested the ECU to ensure it was fully functioning and it did pass on the test rig with full communication and many fault codes. After clearing the codes, we tested the ECU again and it passed with no faults ready to return to our customer.
We were able to extract the immobiliser information from the Eeprom chip once we removed it from the PCB board and isolated it in our chip programmer. This allowed us to write the vehicles immobiliser information to the replacement Eeprom to ensure no programming would be required when refitting the ECU to the vehicle – making it fully Plug & Play!
This 2004 1.6 Citroen Xsara Picasso was fitted with a Bosch M7.4.4 Engine ECU and we're able to fully test & repair these engine control modules using new genuine OEM components to ensure that each and every rebuild meets & exceeds OE specifications. All of our ECU repairs come with a 12 month warranty as standard.
If you have a Citroen Xsara Picasso with a faulty engine ECU and would like the unit tested & repaired by us, then get in touch today. You can email us, drop in or call 0208 853 5000.