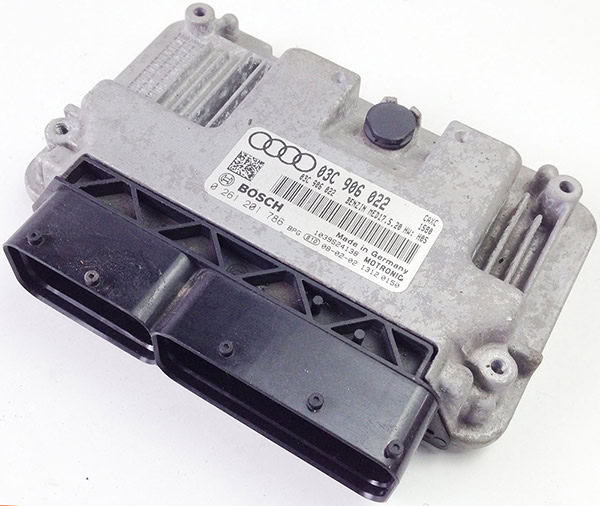 Our customer from Sri Lanka sent this ECU in to us from a 2009 VW Passat 1.4TSi and has advised us that the Engine light is on permanently on the dash and the vehicle is running rough on idle with no response from the accelerator pedal. The customer has requested us to carry out our ECU Testing and repair services on his own unit.
We connected the ECU up to our ECU Testing bench and immediately found the unit failed the test cycle and presented the following 2 permanent fault codes:
P2127 – Throttle / Pedal Position Sensor / Switch – Circuit Low Input
P2138 – Voltage Correlation
We advised the customer of the test report and he was happy to proceed with the repairs. In order to repair this unit we replaced 2 major components and reworked the PCB board and then re-tested the ECU to confirm all was fully functional before returning it to our international customer.
This 2009 Volkswagen Passat 1.4TSi is fitted with a Bosch MED17.5.20 Engine ECU and we are able to fully communicate, test and repair this type of ECU unit. We use all new genuine OEM components when repairing ECU's to ensure each and every rebuilt ECU meets & exceeds OE specification.
If you have a VW Passat 1.4TSI with a faulty engine ECU, get in touch today to get it tested & repaired by ECU REPAIRS. You can email us, drop in or call 0208 853 5000.