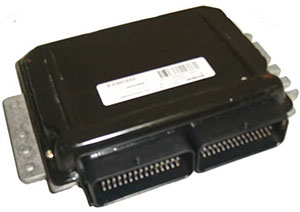 The customer reported having intermittent starting problems for over a month and then it got worse to a point it would no longer start. He was recommended to us by his local garage who removed the ECU and sent it in for testing.
We tested the ECU and found the 8 way Eeprom had corrupted data. We simulated a test run of the ECU on our bench by powering it up and the corrupted data was causing immobiliser faults. With this information we advised the customer of his options and he requested that we went ahead and decoded the ECU for him.
The ECU decode means we switch off the immobiliser system in the ECU so that it doesn't look for the chip in the key. This means that if the customer was to get another key cut for his vehicle, it would not require programming to start the vehicle and the immobiliser will no longer cause problems for him.
We decoded the ECU and sent it back to the customer fully functional with a full 12 month warranty. Other part numbers found on this ECU include: 8200024376 and 7700110471.
This 1.4 Renault Kangoo is fitted with a Siemens Sirius 32 Engine ECU and it is a common failing part. We're able to fully test + repair this type of unit. If you have a Renault with a faulty ECU, get in touch today for an instant quote. You can email us, drop in or call 0208 853 5000.