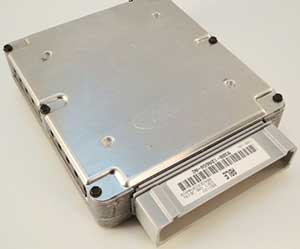 Customer reported his engine was running rough and found it was not firing on cylinders 1 + 4. The vehicle was diagnosed as having a faulty engine ECU and so the customer sent the unit in for testing and repairs.
The ECU failed on our testing rig and confirmed that the missfire was being caused by the ECU. We found corrupted injector drivers and a damaged component, so a combination of software and hardware faults – however, we were able to replace the damaged component and successfully repair the corrupted injector drivers. The ECU then passed on our final testing rig and was sent back to the customer fully working with 12 months warranty.
This Ford KA was fitted with a Visteon EECV LP4-332 Engine ECU. We're able to fully test, repair + rebuild this type of unit. If you have a Ford ECU fault then get in touch with us today. You can email us, drop in or simply call us on 0208 853 5000.