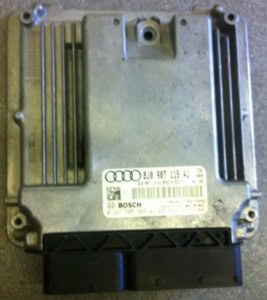 This type of Bosch EDC16 Engine ECU unit (typically EDC16C34) is a very common failure. We are taking calls daily for this type of unit which can be fitted to a variety of VAG vehicles including the Volkswagen (VW) Crafter, Jetta, Sharan and Tiguan. This type of ECU is found to be mounted in the Engine bay, generally near the battery or on a VW Crafter (where the battery is in the passenger floor pan) the ECU will be fitted in the bonnet behind the passenger headlight and secured with two security rivets and a black bracket.
Recently we've had a lot of units being sent in to us from "remapping companies" where they have failed to correctly program an ECU and corrupted the data internally, causing the vehicle to become a non-starter.
Common Faults With This Bosch EDC16 Engine ECU
Missfire
Cutting Out
Non-Starter
Losing Immo Codes
We are able to fully test & repair these units and where units are non-repairable, we can offer exchange units pre-programmed to your vehicle – this means the exchange unit will be Plug & Play and not require any further programming when connected to the vehicle.
All repaired units will come with a full 12 months warranty.
Our Other Services for this ECU type:
ECU Remapping
DPF Removal / DPF Delete
EGR Removal / EGR Delete
Speed Limiter Removal (Off Road Use Only)
DTC Removal – Permanently delete a DTC (Diagnostic Trouble Code) from the ECU DTC Image table. For example if you have a P2002 fault which you cannot clear and just want the fault cleared from the ECU without fixing the fault, we can carry out a DTC Removal and delete the fault directly from the ECU's internal DTC Image table.
For more information on any of our services, please call us on 08712 88 44 90 or email us.