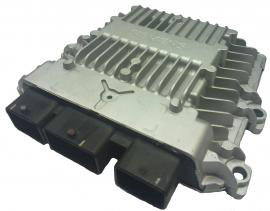 Customer sent this Siemens unit to us for ECU Testing after having a exhausted all other options. His vehicle has been running rough and throwing out numerous codes for turbo boost pressure, throttle position sensor and air intake leak detections. The customer said he had the turbo checked, and spent £100's on replacement parts but the problem was still there.
We tested the Engine ECU and found the unit was faulty. We reported all faults to the customer and got the go ahead to repair the unit. After repairing the ECU we then re-tested the unit to ensure that all faults were rectified before returning the ECU to the customer fully functional with a 12 month warranty.
Other part numbers we found on this ECU include: 1938XF, SW 9646801080 and HW 9644323980.
We use new genuine OEM components when repairing the ECU to ensure that each and every repaired ECU unit meets & exceeds OE specifications. All of our repair ECU's come with a 12 month warranty and do not require recoding.
This Diesel Peugeot Partner van is fitted with a Siemens SID801 Engine ECU and the same ECU can be found fitted to Citroen's and other vehicles. If you have a Peugeot  / Citroen with an ECU fault then get in touch today to find out how we can help you. You can email us, drop in or call 0208 853 5000.