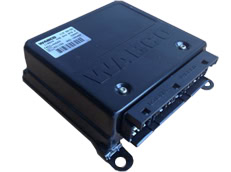 What Is An ECU?
Each car is installed with several ECU units. ECU stands for "Engine Control Unit"
although the say term is given to electronic control modules of other systems.
There is an ECU for your engine management, one for your dashboard/lights,
one for your gearbox, one for your air bags, ABS and so on.
The engine ECU's are also known as ECM (Engine Control Module).
What Does The ECU Do?
An ECU (ABS ECU) also known as an ECM (Electronic control module) is responsible
for all the electronic signals passed back and forward to the vehicle. Without an ECU,
your ABS system would not operate. If the unit is faulty, it could be potentially
hazardous.
What Is ECU Coding?
Recently, manufacturers have begun coding all ecu's to the vehicles they are installed on,
this is an act to cut down on crime as many people realised how expensive these units can
be and began breaking into vehicles. An ECU from main dealer can typically cost around
£1000-1200.
We have been in the business since 1972 and are able to repair the ecu's from all
types of vehicles.
What We Do
As fully qualified ECU repair specialists we are capable of carrying out a wide range of
ECU repairs following an initial ECU soak testing which will help to identify the cause
of the problem and pinpoint it exactly.
In many cases a simple flash reset could be all that is required to get your ECU back into
working order but if your electronic control unit needs to be exchanged or replaced then
we are able to offer some great deals on new ones from a range of manufacturers including
BOSCH, VDO, MAGNETTI MARELLI, SAGEM, SIEMENS & LUCAS ECU units and we are also
proud to announce that we've got some fantastic cash saving offers on the latest range of
brand new FORD and VAUXHALL ECU models.
ECU's are rarely manufactured by the car manufacturers. In most cases the manufacturer of
your ecu unit will be one of the following:
To find out if we can repair your own unit, contact us today.
[Back To Top]
Common Faults – All of which are repairable
• water damage
• ABS Light Reset (If it won't self-reset)
• ecu spiking (caused from jump-start)
• Air Bag Light Not Going Out
• No Communication
• Fire Damage
And Many More..!
If your ecu fault is not listed here, we may still be able to repair it.
Technical Fault Terms
• Attempted Jump Start – SPIKED
ECU Testing
Checked your wiring loom and all seems fine?
Not sure wether or not it is the ecu playing up?
Request us to "test" your ecu unit, if there's no fault found then we only charge the
standard test fee. If your unit is found to be faulty then we'll give you the option of
having the unit repaired – in this case, we'd wave the test fee and charge only the repair
cost.
Worried the fault is intermittant and may not show up?
We test all units extensively up to 24-48 hours to be absolutely sure of the ECU units
condition before allowing it to leave the premises. A majority of the time we even find
faults the customer was unaware of. Our repair costs are fixed depending on the ecu
part numbers and so all faults are repaired within one price.
Non-Repairable Unit?
On a day-to-day basis, customers are being told by their local garages and main dealers
that their ecu is "non-repairable" and needs replacing. Replacing an ECU can cost in the
excess of £1000+ yet we are able to repair old units even if it means changing the
entire circuitry and save you £100's.
Plus we even give all our customers a full 12 months (1 Year) warranty!
Repair Or Exchange?
We keep many ecu's in stock ready to be exchanged. If we don't have a unit for exchange
ready in stock then we can always repair your own unit. If in the unlikely even your unit
is non-repairable, then we can source a replacement unit for you where possible.
Prices
Due to the fact we are constantly aiming to lower our prices, we no longer list a price
list on our website. For our lowest prices call us on +44 208 853 5000 and a member of
our team will be happy to assist you. Further more you can click on the "Contact Us" link
to fill in our email form and a member from our team will respond to you within 24-48 hours.
Please note: If you are an international customer outside of the United Kingdom, you must
provide an email address when sending us an email.
Warranty
Why spend £1000's on a new ecu which will come with a 12 months warranty when we can repair
your own unit saving you £100's and offer the same warranty!
That's right, with all our ecu services we offer a full "no-fuss" 12 months warranty.
Ready To Send Us Your Unit?
When contacting us in regards to ecu's, please have the ecu "part number" to hand.
This can be found on the ecu directly below where it says the make of the ecu.
I.E if your ecu is a BOSCH ecu, then the part number should start with "026"
If you've already been quoted and want to go ahead with our service, simply package your
unit in a small box or jiffy bag and send it to:
ECU REPAIRS
Unit 3 Brookmarsh Industrial Estate
70 Norman Road
Greenwich
London
SE10 9QE
United Kingdom
Also, please attach with the unit the make, model, year of car and also the fault with the
ecu or the problems it is giving you on the vehicle. Don't forget to put your contact
details with it too so that we can contact you for payment once the work has been carried
out.
Call Us Today!
(UK) 0208 853 5000
outside (UK) +44 20 8853 5000